You Can Do It!
October 5, 2019
Tim Ross
Pastor Tim Ross uses the story of Gideon to illustrate why you can do whatever God has called you to do.
Spirit Comes, Church Goes
September 28, 2019
Joakim Lundqvist
This weekend at Global Impact Weekend, Joakim Lundqvist shares a message about stepping out of the boat and daring to believe the Holy Spirit is with us. 
God Is ­…
A Gateway series
In his new series, God Is ­… , Pastor Robert shares the attributes of God, which will give you fresh perspective into His character and heart.
Whatever It Is, Let's Face It Together
August 31, 2019
Tim Ross
Pastor Tim Ross speaks on the importance of living our lives in community.
Bring a Friend 2019
A Gateway series
This summer bring a friend, family member, or coworker to Gateway Church for three evangelistic-focused weekends. We'll have Pastor Robert, Craig T. Nelson, and Michael Jr. sharing their stories and the message of the gospel.
Great Joy and Great Sorrow
August 3, 2019
Robert Morris
Pastor Robert shares a message about how we can turn great sorrow for our lost friends into great joy at their salvation.
The Gift of Grace
A Gateway series
Pastor Jimmy Evans explains how God's grace transcends our perception of reality, shines through us when we are weak, helps us see God's good nature fully, and shows us how to respond to other people in our lives.
Happy Birthday, America!
June 29, 2019
David Barton
David Barton, the founder of WallBuilders, shares a message titled "Happy Birthday, America!" where he discusses the faith-based roots of Independence Day.
The Power of Peace
June 22, 2019
Jimmy Evans
Pastor Jimmy shares a message about the gift and power of God's peace and how to fight for it in our lives.
Every Great Father
June 15, 2019
Jimmy Evans
Pastor Jimmy shares a special Father's Day message about the three essential roles fathers should play in their family's lives.
True Prophecy
June 8, 2019
Robert Morris
Pastor Robert shares how God uses prophecy today to strengthen and encourage us.
Here Am I. Send Me.
May 25, 2019
Dave Roever
Vietnam War veteran and Purple Heart recipient Dave Roever shares how God can turn tragedy into triumph.
A Way in the Wilderness
A Gateway series
In this series, Pastor Robert shows us how Jesus is the fulfillment of Isaiah's prophecies about the coming Messiah. And because we have placed our hope and trust in Jesus, He transforms our wilderness into a garden overflowing with abundance.
The Stench Behind the Stone
April 27, 2019
Dr. Jon Chasteen
Dr. Jon Chasteen, the president of The King's University, uses the story of Lazarus to discuss God's desire to mend our pain.
The Last Three Days
April 19, 2019
Robert Morris
Pastor Robert explains that what each of us believes about Jesus' death, burial, and resurrection makes all the difference for our future.
The Last Week
April 13, 2019
Robert Morris
Pastor Robert takes a look at what Jesus chose to do and say during His last week on earth, and how it applies to us today.
Say Yes
April 6, 2019
Ethan Fisher
Pastor Ethan Fisher shares how God shapes us into the person He wants us to be.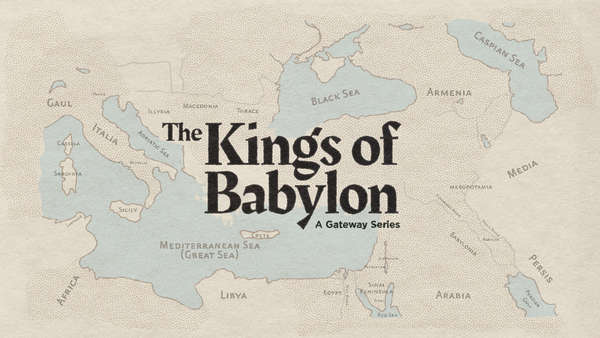 The Kings of Babylon
A Gateway series
Pastor Robert Morris brings to life the stories of four ancient kings and relates them to the struggles God's people still face today and, more importantly, His redemptive plan that awaits us all.
Life Giving
A Gateway series
In Life Giving, a new series from Pastor Jimmy Evans, you'll learn about the blessings that come with a life of generosity. This series will teach you that generosity doesn't just bless those around you, it's truly life giving to you as well.
Beyond Blessed
A Gateway series
For almost 20 years, Pastor Robert has been teaching the Church how moving from selfishness to generosity is the key to living a blessed life, because it not only transforms your finances but also every area of your life.
First Conference 2019
A Gateway series
As a Gateway family, we dedicate the first of each year to the Lord with this annual churchwide conference.
Discover His Kingdom Purpose
January 5, 2019
This weekend, James Robison is speaking a message titled "Discover His Kingdom Purpose" where he shares how God answers prayer, uses imperfect people, and gives us compassion and courage when we surrender everything to Him.
Getting There Isn't Guaranteed
December 29, 2018
Preston Morrison
This weekend, Preston Morrison delivers a message titled "Getting There Isn't Guaranteed" where he shares four pieces of wisdom for the new year.
Christmas Candlelight Services
December 22, 2018
Robert Morris
Our Christmas Candlelight Services are filled with your favorite Christmas carols, a timely message from Pastor Robert, the classic candle-lighting moment, and more.
Never miss a sermon. Subscribe on Apple Podcasts to get new sermons as they become available.