God's Chosen People
January 24, 2020
The Messianic Jewish Bible Institute is merging with Gateway's Jewish ministry to form the new Gateway Center for Israel. Read more about the origins of this amazing center and how God is calling the Church to love the Jewish people. 
Going the Distance
January 16, 2020
"After my son Josh's freshman year of college, I suspected something was going on, so I told him that I wanted him to have a drug test before I would pay for any more schooling."
Craig Carillo's Story
November 27, 2019
How Craig Carillo's life changed after Gateway's Christmas musical.
New Life
November 15, 2019
When JR Porter is worshipping God, the devil is turned upside down—literally. The tattoo on his arm is a reminder of the life he's left behind.
When Kids Pray
November 15, 2019
"This winter I fell while rehearsing worship for our Gateway Kids' services and later learned four ligaments in my left ankle had severe third-degree sprains, and my talus bone was fractured."
The Seventh Lap
November 15, 2019
"My son Ryder has been battling daily seizures since he was eight months old. In January 2018, I went to a women's retreat and the Holy Spirit told me that Ryder was on his seventh lap—the walls were going to come down just like Jericho!"
Operation Freedom
November 12, 2019
When Ro Lopez travels to exotic locations around the world, it's not for vacation. He arrives with a team of men who all give off the impression that nothing could surprise them.
Called to Protect
November 12, 2019
Mechele West was a scary five-year-old. At least, that's what her 24-year-old cousin-in-law thought. No one understood why he played with all the cousins but her or why he jumped at the sound of her voice and left a room when she entered it.
Daddy's Girl
November 12, 2019
Rodolfo Salcedo thought he had the remedy to help make his young daughter, Natalia, feel happy again.
Prisoner No More
November 12, 2019
"I had several police cars following me, and I didn't know what to do. Should I make a run for it or accept that I was going back to prison for the third time?"
A Beautiful Future
November 12, 2019
"I had a rough childhood—my innocence was stolen at a very young age. I remember knowing of God as a child, but I didn't understand the relationship part."
Going into All the World
November 12, 2019
"I felt called to missions when I was 12. It was just after my first Gateway ministry trip to Guatemala with my family."
Heart of Stewardship
November 12, 2019
"Last winter, I attended one of the messages from the Beyond Blessed series on stewardship and tithing. I've always struggled with tithing (i.e., I've never done it!). My giving was sporadic and much less than 10 percent."
Anywhere but Africa
November 12, 2019
Rich Franzen was just a lanky 17-year-old walking through the halls of the church office with no real direction when a children's pastor stopped him.
Raising Up Truthseekers
November 12, 2019
John and Linda Schneider are empty nesters, but every other Sunday their home is buzzing with young men and women, the same age as their children.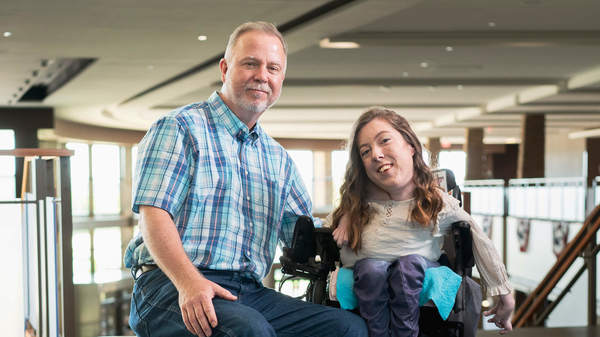 Car Donation | Larry and Jolene Knopick
October 24, 2019
Larry Knopick is the sole caregiver for his daughter, Jolene, who is battling an incurable, debilitating disease. Traveling can be a difficult process for both of them, but watch Gateway surprise them with a new car that makes traveling easier!
Churches Along the Amazon
October 11, 2019
Amid the lush green landscape along the Amazon River, churches are coming to life. Hear how God is using our partnership with PAZ to reach people in hard-to-reach areas of Brazil.
A Life-Changing Word
September 28, 2019
Hala Saad felt a burden for the people of her homeland in the Middle East but didn't know what she could do living so far away in the United States. 
Forever Family
August 10, 2019
"I was orphaned as a baby in China. I'm not sure why my birth parents gave me away. Maybe they were scared; maybe they had more than two children in the family; or maybe they saw that I had birth defects on my ears."
Rebuilding Hope
August 10, 2019
Amy Calvey's been dancing. She puts socks on and slides across her shiny kitchen floor in a dance of pure childlike joy. It's a moment that stands apart, because grief has been weighing her down the past few years.
Outreach in Action
August 10, 2019
For 20 years, Pastor Michael Hodge has kept his church, Way of Truth, afloat. "I do what needs to be done to keep the lights on," he says. His tenacity and influence in underserved communities of Dallas is one of the reasons Gateway is partnering with him. 
Faith. Family. Fishing.
August 10, 2019
"I grew up fishing. It's something that was passed down to me from both sides of my family, so it's in my blood. But it became a number-one priority in my life above everything else."
Nick and Bekah Moes' Story
August 9, 2019
Discover how God used Marriage 911 to restore the Moes' marriage, bless their family, and inspire them to use their story to help other couples recover from infidelity and save their own marriages.
Hold This Bridge
August 9, 2019
Learn how our first campus outside of the Dallas/Fort Worth Metroplex came into our family, and hear Pastor Mike Atkins share how God orchestrated every step.