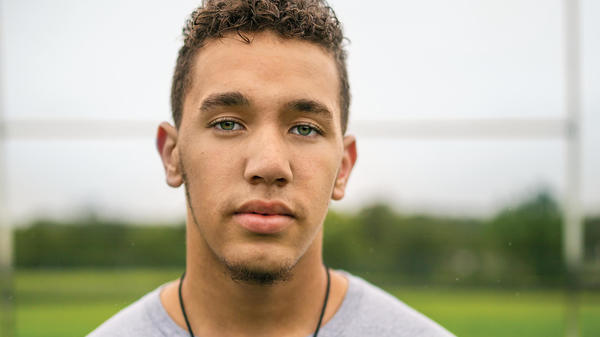 Thomas Jones
November 9, 2018
"Growing up, I've always been open to trying new things. I played football, tennis, sang in the choir, and participated in many extracurricular events at school. But when I thought...
Summer Rogers
November 9, 2018
"I've always loved the drums and I could sit and watch drummers play forever. When I was 11 years old, I asked my parents for my first drum set, and at Christmas that year, they...
Amy Suson
August 9, 2018
"I was born with a hole in my heart and have a transposition of the major arteries—that means my arteries are connected to my heart in the wrong spots. I've had several major...
Rheanonda Gray
August 9, 2018
"I just love sharing this story. Eight years ago, I went to the hospital for a routine surgery. I was supposed to go in at 8 am and be out by 5 pm. Little did I know that day would...
Young at Heart
August 8, 2018
Kathy Conley had to say goodbye to her husband of 43 years. The most enduring romance of her life ended abruptly when he passed away in 2011. In her wildest dreams, she couldn't see...
Good Taste
August 8, 2018
When Jeff Williams was a kid, he was forced to be creative with food. His father was a warehouse manager for a major supermarket company, and when his union would call for a strike,...
Spent
August 8, 2018
When Erin Reeves received a credit card offer in the mail about four years ago, it seemed innocent enough. She and her husband, Chad, and their three kids had just moved from Florida...
Warrior for Hope
August 8, 2018
If you didn't know Eric Lyons' story, you'd think he's a glutton for punishment. For a hobby, he competes in Muay Thai, a kickboxing-like combat sport popular in Thailand. And he can...
Karen Kelly
August 8, 2018
"When I was a young mom, I decided to stay home and raise my four kids. I gave it my all and more every day, but that's not exactly something you can put on a résumé. During that...
Now I See
August 3, 2018
Emma's very existence was a miracle. She had heard the story her whole life—her surprising and miraculous conception to parents who struggled with infertility—but she thought that...
Ron Butler
August 3, 2018
"I've been a firefighter for 23 years, and it's a firefighting tradition to have a piper in the department for memorials. I've always loved the sound of the bagpipes. There's...
Valeria Warren
August 3, 2018
"I lived a double life. I grew up in church thinking I knew how to live a Christian life, but it wasn't until six years ago that I truly gave my life to God. At the time, I was in an...
Emily Poe
August 3, 2018
"After high school, I was in a constant state of rebellion. I always wanted to go against what people told me to do. I became addicted to a lot of different things and began dating...
To Arkansas With Love
August 1, 2018
When Laura George walked into the Gateway Southlake Campus in 2014 for the first time, she didn't want to be there. It was a weeknight after a long day and it took her an hour to...
Djamel Oukhlif
May 11, 2018
"I was born and raised in Algeria, and I grew up Muslim. I moved to the States in the '90s. I fell in love, got married, and got into real estate. For 15 years, I was very...
Mountain Natives
May 11, 2018
Philip Pappas strums his guitar on the stage in a dingy dive bar in Dallas. His wife, Loren, stands to his right playing a mandolin-like instrument called a charango. Their two...
Lori Wei
May 11, 2018
"I waited for 13 years. I was a single mom, and I made a lot of really poor choices. I became so bitter and lonely that I almost just gave up on the dream of sharing my life with...
The Battle of Her Life
May 11, 2018
When Veronica Ambers got pregnant unexpectedly, she kept hearing that motherhood would be instinctive. She waited and waited for the day that would come true. But it just...
In a Flash
May 11, 2018
Greg McGill walks into the front door of the Trophy Club Starbucks and the baristas and even some of the customers all look up and say, "Hey, Flash!" He loves his nickname so much,...
Lillian Rose O'Donnell
May 11, 2018
"My dad (Jimmy Lee Hill Sr.) was larger than life! His legacy of love for our family, church, community, and the world is extraordinary. He traveled every Saturday to the local...
Patrick Tshimankinda
May 11, 2018
"One day we were in church, shortly after our first child was born, and a woman came and told us we were going to go through a hard time, and we would have to keep our faith and...
He Speaks
May 11, 2018
When Chelsea Lozano was pregnant with Landon, she really felt like he might be the perfect child. "It was the perfect pregnancy, no sickness or symptoms," Chelsea says. "Even when my...
Galisia Johnson
May 10, 2018
"Five months ago, I was going to drive off a bridge. I couldn't do life anymore. As I began to veer off the road, I heard someone say, 'Wait!' So I detoured. I came to Gateway for...
Marathon Man
May 10, 2018
To qualify for the Olympic marathon trials, you have to run a mile in 5 minutes and 18 seconds roughly 26 times in a row without stopping. For most people, simply running one mile at...