More Than Housework
May 8, 2019
"I'm in a widows group at the Grand Prairie Campus, and I heard someone talking about the Men's Brigade. I didn't know what it was and when I found out it was a group of men who help widows with handyman work around the house, I asked if they could help me clean my gutters."
The Yes Man
May 8, 2019
Gateway ministry partner, Charlie Milbrodt, founder and co-leader of Living Word Ministries International (LWMI), has planted this vision at the heart of his mission work in Thailand where he and his wife, Cathy, are "helping people to help themselves."
Jewish Roots Go Deep
May 8, 2019
"I grew up in a Muslim country where 97 percent of the people practice Islam, but my family were devout Christians."
In the Waiting
May 8, 2019
Every February 17, there are balloons in the sky. Each carries a note on the wind to a young boy gone too soon. The balloons are released from Grapevine Cemetery, where the Day family gathers to remember.
Three Times Saved
May 8, 2019
"Two doctors told my family that I would never walk again."
Frayed but not Broken
January 31, 2019
There's no official training for people who give death notices. You might get a few pointers, a few dos and don'ts, but nothing prepares you to actually deliver the news that ...
Man of Courage
January 31, 2019
Three of John Paul Reyes' friends tried to pull him into the car, but they couldn't hold him back. Despite being outnumbered and surrounded in the wrong part of town, John Paul ...
Found in Translation
January 31, 2019
It was a calm August morning in 2006 at Auschwitz, the infamous Nazi concentration camp where more than a million Jews were killed by Nazis during World War II ...
A Knock at the Door
January 31, 2019
"My mother was a practicing witch. She was always seeking spiritual truths and knowledge. One day, when I was in early elementary school, a woman came to our door and invited my mom...
Like an Eight Ball
January 31, 2019
"When I was about five years old, I was riding my bicycle on the wrong side of the road with my cousin, and I got hit by a car. Miraculously, I didn't break a single bone in my body ...
Death Did Not Win
January 31, 2019
"For as far back as I can remember, I struggled with depression. One day it was so bad that I decided to research what would happen if I overdosed on one of my prescriptions. I was ...
A Sister's Prayer
January 31, 2019
"My sister and I came to America from Colombia when we were about three years old, and within a few months my parents got divorced. We grew up without a father figure in our lives,...
True Community
January 31, 2019
When J. D. and Zaporia Hill first visited Gateway Church nearly 10 years ago, there were hardly any families who looked like theirs. Although the Hills felt welcome, the church was ...
Unlocking Hearts in the Middle East
January 31, 2019
In a dusty Syrian refugee camp in Lebanon, seven-year-old tents were draped with rags and repurposed plastic to cover gaps and holes born from wind, dust, and rain. This stop was one ...
Coming Full Circle
January 31, 2019
Kerri Hupp never imagined the devastation she would experience 15 years after saying "I do." The 42-year-old mother fought with all her strength to save her struggling marriage, but ...
Eric Priddy
November 12, 2018
"Last October, I decided to cut down a mulberry tree in my yard. I had a rusty old ax in the shed but for some reason I wasn't in the mood to clean and sharpen it that day, so I went...
Anchored
November 12, 2018
There were three things Lisa Burkhardt Worley was afraid of. The first was snakes. (Unfortunately, that's a story for another day.) The second was horses. This fear stemmed from one...
Every Kind of Mom
November 12, 2018
On the island of St. Croix, the weather is serene, hovering between the 80s and 90s year-round with cool breezes smelling of sea salt and hibiscus. Located next to Puerto Rico, the...
Dancing into Freedom
November 12, 2018
The song swells and finishes with one booming note, voices blending in honeyed harmony, and everyone holds their ending pose with huge smiles. Sweat, smoke, and the sound of applause...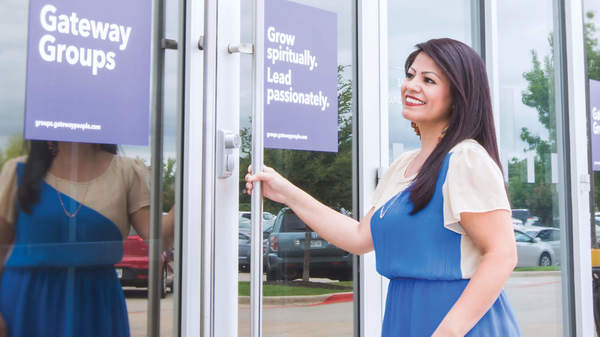 Alejandra Gerdes
November 12, 2018
"My daughters saved my life. At the time, I was a single mom working nights as a surgical technician at a trauma hospital, so I could take care of my girls during the day. I...
Bettye Petree
November 12, 2018
"We call ourselves the 'Gateway Girls.' Our group is mostly single or divorced ladies, except for me and a couple others. We meet upstairs at Whole Foods on the first and third...
Harvesting Hearts
November 9, 2018
When you journey 5500 miles east over the deep, blue Atlantic toward the old world, you'll reach the small, tropical West African nation of Sierra Leone. A hotbed of distress for...
Cellblock Prayers
November 9, 2018
To many of the inmates at the Mark W. Michael Unit maximum-security prison, Wayne Edson is known as the man with the miracle story. A certified volunteer chaplain, Wayne has been...
Thomas Jones
November 9, 2018
"Growing up, I've always been open to trying new things. I played football, tennis, sang in the choir, and participated in many extracurricular events at school. But when I thought...